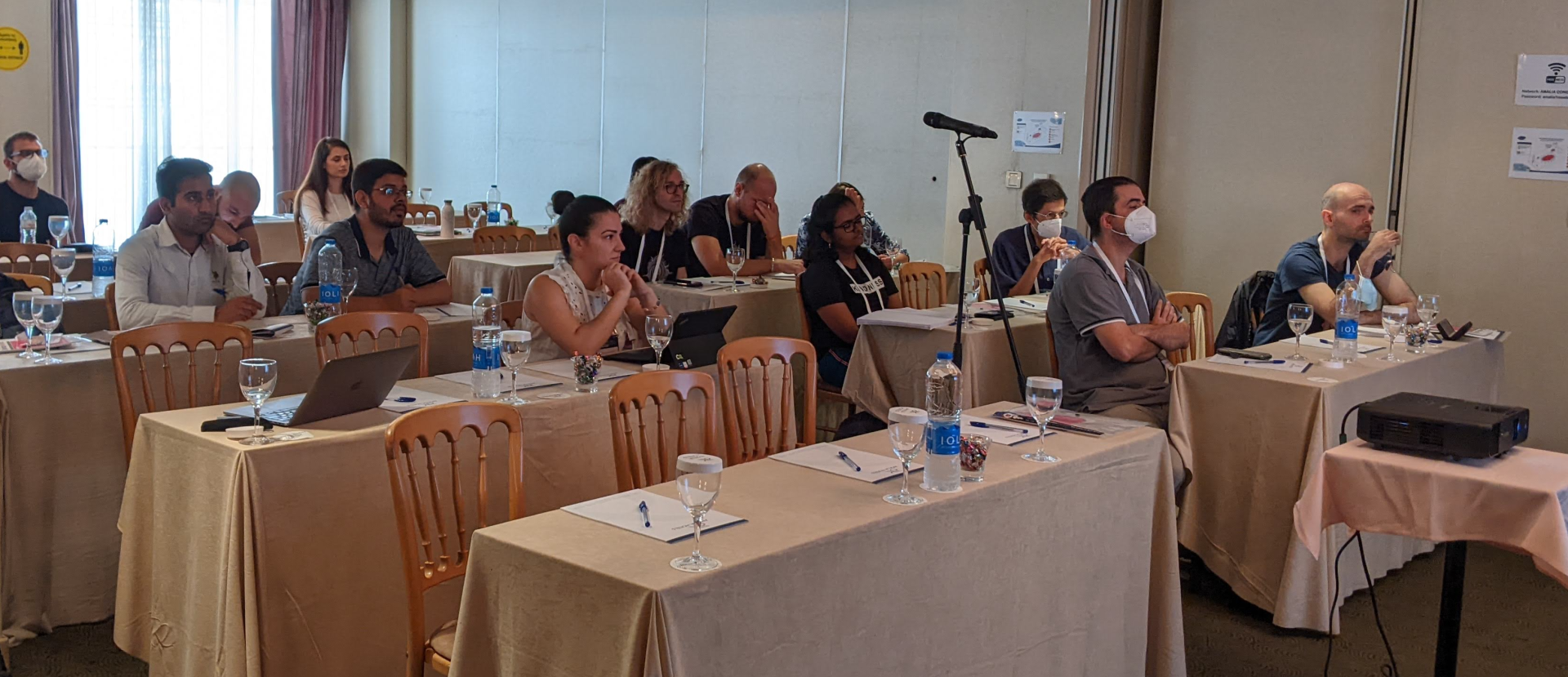 A week in Athens learning about space weather
text: Manolis Georgoulis
The SWATNET Project's School 2 (Sun-Earth Interactions) and Workshop 3 (Solar Activity and Space Weather: Physics Beyond the Process;) took place back-to-back in Athens, Greece, on September 26 – 28, 2022 (School 2) and on September 29 – 30, 2022 (Workshop 3). The events took place in the readily accessible heart of Athens' historic center, just steps from the Hellenic Parliament, the National Gardens and the hub of the Athens metro system.
The two important training events of the project were attended by all 12 SWATNET Early Stage Researchers (ESRs) and by several local students by the University of Ioannina, University of Athens, the National Observatory of Athens and the Academy of Athens. Guest students were welcome to attend School 2 that gave emphasis on comprehensive summaries of Sun-to-Earth space weather processes and on individual presenter skills. Workshop 3 activities, emphasizing on group work and group presentations as well as on open scientific questions, were reserved for the SWATNET ESRs. All but less than a handful of students attended in-person.
The expert speakers were a top-tier assortment of the SWATNET senior beneficiaries and partners along with experts from project institutions who were not personally related to the project (Universities of Helsinki and Ioannina, KU Leuven and the Academy of Athens), as well as invited speakers from the Universities of Athens, Reading (UK) and Genova (IT), the Finnish Meteorological Institute, the Leibniz-Institute for Astrophysics Potsdam (DE) and the Johns Hopkins University's Applied Physics Laboratory (USA). The planned industry talk by the Space Applications Systems (SAS; Belgium) did not materialize due to personal reasons of the speaker but instead Workshop 3 participants enjoyed an expert talk on industrial space weather tasks by senior personnel of the Space Applications & Research Consultancy's (SPARC; Greece). Both in-person and virtual lectures and talks were accommodated, while in one case the talk was recorded, given the speaker's unavailability for a virtual attendance and presentation.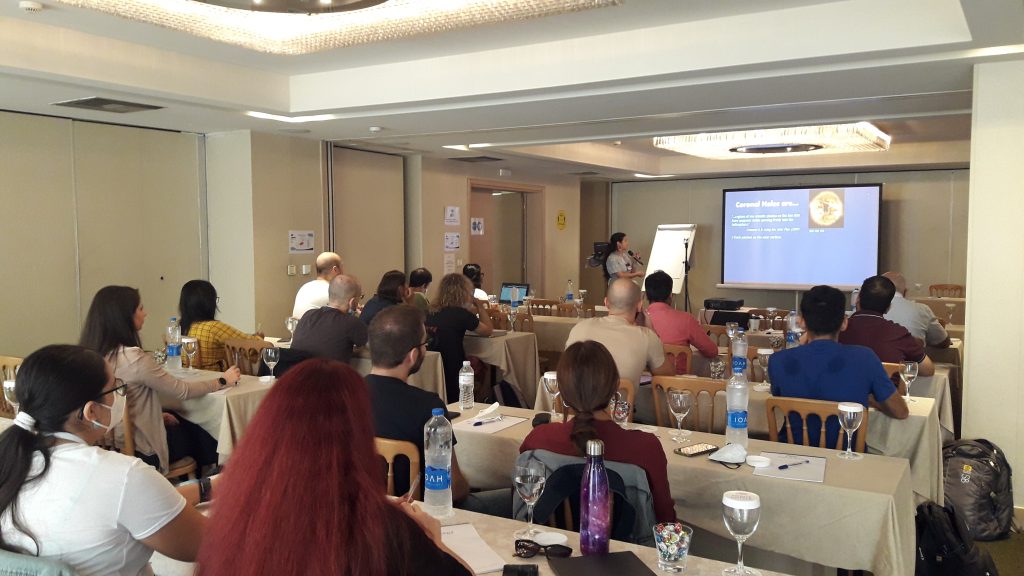 It became a common understanding that both events were successful and even exciting for the students, with significant time for interaction, questions, and debates. Speakers of both events were advised to provide problems, questions, and little projects or simply food for thought for the students which were elaborated on during student presentations.
An overarching theme and message of both events was that both senior researchers and ESRs are actively working to understand the discussed topics and that seniority does not necessarily imply an added knowledge benefit. We clearly have more questions than answers and there is a long way to go to achieve a credible space weather forecasting that must first achieve a sufficient physical understanding before getting practical, toward transitioning from research to operations.

The afternoon and evening of Wednesday, September 28, mid-week and in between School 2 and Workshop 3, were devoted to social functions: local students and ESRs first enjoyed a guided tour at the breathtaking New Acropolis Museum and then headed on foot to the nearby historic Headquarters of the National Observatory of Athens, where another guided tour was in order. Neoclassical buildings of the Observatory, the national hour-keeping telescope, and a replica of the Antikythera Mechanism were presented to the students in detail. The night ended with a sumptuous Event Dinner on a famous Athenian rooftop restaurant, with both the Acropolis Hill and the Temple of Olympian Zeus at plain and unobstructed view.